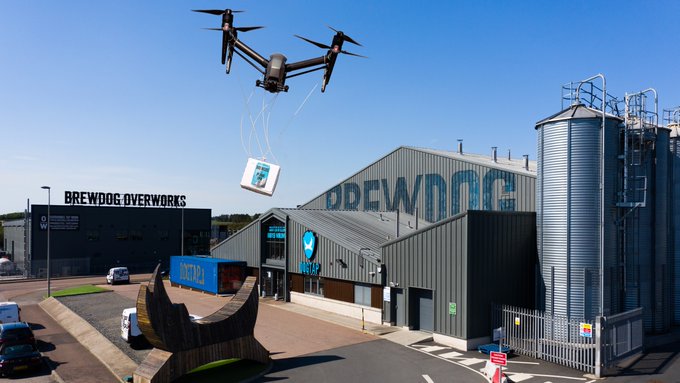 Last week we posted a story about Buffalo Wild Wings starting wings delivery in Mobile, AL now  BrewDog is set to launch a beer delivery service using drones in Ohio next month, and is looking into a UK version if successful.
In a Twitter  post (below) BrewDog's James Watt said: "In July, we will start using drones to make socially distanced beer deliveries to various locations on our 42 acre Columbus campus.
"And we are exploring using drones as the next stage of our @BrewDog Now delivery service here in the UK."
The Columbus trials will be on Sundays next month, with plans to use the service in the UK, Dublin, Berlin and Brisbane.
Currently BrewDog are offering customers an online web shop for ordering beer for delivery as well as fresh pints collection from their bars.
In July, we will start using drones to make socially distanced beer deliveries to various locations on our 42 acre Columbus campus.

And we are exploring using drones as the next stage of our BrewDog Now delivery service here in the UK. pic.twitter.com/U9frjwfRYt

— BrewDog (@BrewDog) June 16, 2020